Indian Wedding Lehnga Designs
Brides in South Asia typically favor red wedding outfits - sarees or lehngas for their wedding day. The lehnga is a two-piece top and skirt outfit as you will see in the pictures below. It is worn with a long and usually heavily embroidered scarf (dupatta). The bride will place the dupatta over her head.
The vibrant red is also favored in other Eastern cultures such as China. Choosing the red color as a wedding outfit over other colors must be rooted in its various cultural expression for wanting the bride to be the bright center of attraction. As she should be.
Here are some really cool Indian wedding lehnga design ideas. Hopefully you are inspired by these designs, and will use them to design your own wedding lehnga outfit to be the center of attraction.
Red Bridal Lehnga Designs
This is a striking red and gold wedding lehnga. There is elaborate designs on the full skirt that is clearly detailed work.
Shimmering burgundy wedding lehnga with bright silver embroidery and detail work.
This one is really cool. I like the fishtail skirt, and the wide neckline of the top. It is a modern take on the traditional full skirted wedding lehnga. But you need to be in shape to carry this style off well.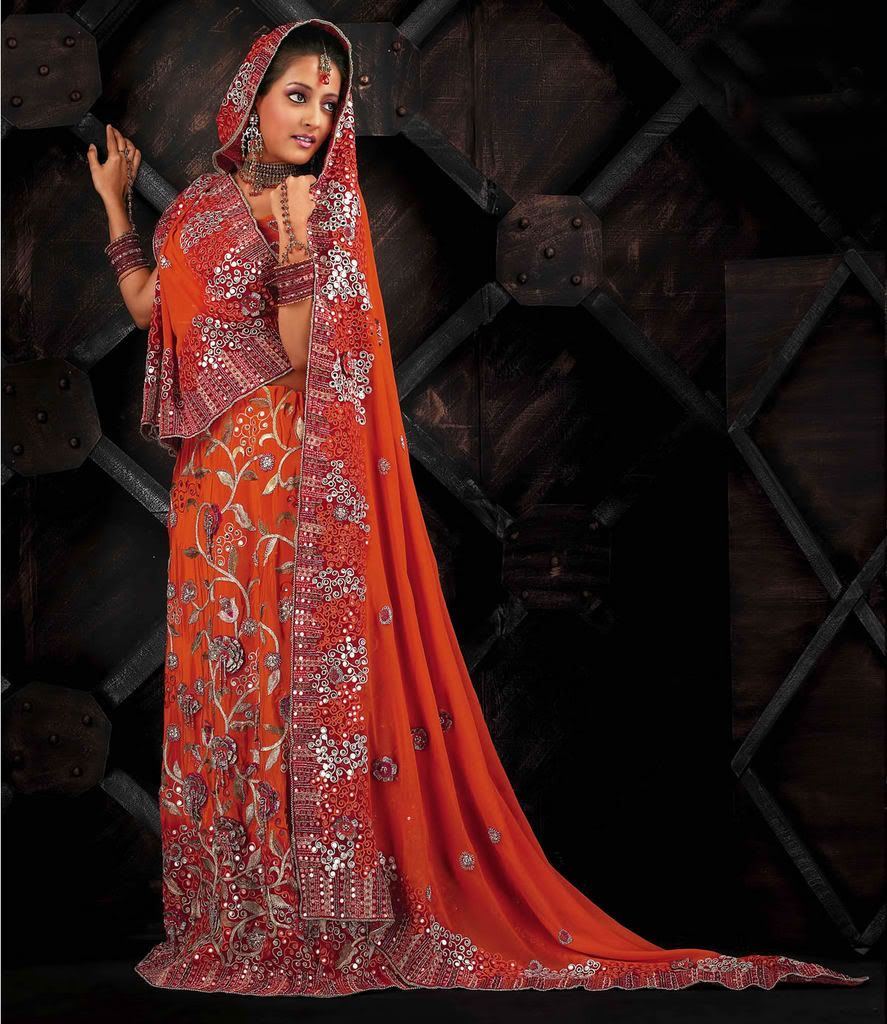 Silk wedding lehnga with heavy embroidery and detail work. Exquiste.
This is a Pakistani traditional wedding lehnga. The red has been lighten so that is is a near pink (salmon) colour, which is in fashion.
Free Wedding Ideas Compilation:
I am putting together a compilation of bridal ideas on the latest bridal dress fashions, hair and make-up ideas, wedding decoration ideas and more. If you are interested in receiving this compilation, please sign-up in the form below, or email me at
indiaweddingdesigns[at]gmail.com
!
And if you'd like to just say hi, or exchange ideas, I'd be happy to hear from you as well. Please add me on Facebook! :)
Labels: Indian Wedding Dress, Red Bridal Lehnga, Wedding Lehnga
Featured Offer from Nina at India Wedding Designs:
Sign-Up For 21 Wedding Tips
Includes the following Topics!

Something Every Bride-to-Be Needs to Know
How To Survive (and Enjoy) Your Wedding Day
The Real Secret to Choosing Colors for Your Wedding Dress
Adapt the Latest Bridal Dress Fashions To Your Figure Type
Bridal Hairstyle Looks That Would Suit You Best
How to Avoid Bridal Make-up Disasters
The Wedding Make-Up Tip for Indians that is Almost Too Easy
For Radiant Skin, These Facial Methods Work Like Crazy
The Biggest Mistake Brides Make (and How to Avoid It)
The Best Way I Know to Get a Honeymoon Trip, Even When Your Budget Doesn't Allow It.